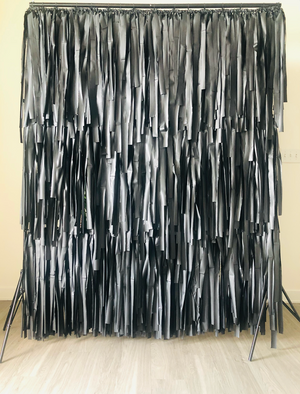 All Black Fringe Backdrop
Sale price Price $170.00 Regular price
Who Loves a Photo Op?!
We sure do!
It's a MUST to have a fabulous backdrop at your event to create lasting memories and add the extra pop your party needs! Backdrops are intended to create a specific visual scene behind the subject of the photo and they genuinely help make a photo memorable :)
Materials:
All of our backdrops are created with premium plastic streamers. Each streamer is hand cut into 1 inch sizing in width and tied to a 6.5ft x 5ft plastic backing. The backdrop is 1 piece and arrives assembled and ready to hang.
Size: 6.5ft (h) x 5ft (w). If you would like a larger or smaller size, please message me for a custom order :)
Colors:
Black
Usage:
This backdrop looks amazing indoors or outdoors. It can withstand any condition, making it weather resistant. It is also lightweight and reusable.
How to Hang:
Item comes in 1 piece and is lightweight. It can be easily hung on a backdrop stand with zip ties or clamps/walls with command strips/fences or collumns with string or rope. **As shown, I hung the backdrop up with a backdrop stand. To hang it on the backdrop stand, I used zip ties across the top and on the sides of the stand.**
FYI:
Each backdrop is handmade with love and lots of hours. Therefore, please expect slight variations.